Israel Makes 'U.S.Border A U.S.Constitution Free Zone':Arizona BDS Network activists protest Israeli firms militarizing the border AcSouthern Arizona BDS Network on May 14, 2015
Southern

Arizona

BDS (Boycott/Divestment/Sanction) Network is working to build a... ...

Arizona

activists

protest Israeli

firms militarizing the

border

. On May 2, a ...
"If you go to Israel and you come to Southern Arizona and close your eyes and spin yourself a few times you might not be able to tell the difference." -
Tucson Mayor Jonathan Rothschild.
• Israeli military arms manufacturers provide border security for America.
- See more at: http://americanfreepress.net/?p=22830#sthash.wMeNyAfg.dpuf
U.S.-Mexico Boder An Israeli Controlled 'Constitution Free Zone'
In 2007, according to
Naomi Klein in The Shock Doctrine, the Golan Group, an Israeli consulting company
made up of former IDF Special Forces officers,
provided
an intensive eight-day
course for special DHS immigration agents covering "everything from hand-to-hand
combat to target practice to 'getting proactive with their SUV.'" The Israeli company
a surveillance system to watch one of his jails....
On November 20, 2014, President Obama
announced
a series of executive actions
on immigration reform. Addressing the American people, he referred to bipartisan
i
mmigration legislation
passed
by the Senate in June 2013 that would, among other
things, further up-armor the same landscape in what's been termed—in language
adopted from recent U.S. war zones—a "border surge." The president bemoaned the
fact that the bill had been stalled in the House of Representatives, hailing it as a
"compromise" that "reflected common sense." It would, he pointed out, "have doubled
the number of Border Patrol agents, while giving undocumented immigrants a
In the wake of his announcement, including executive actions that would protect five
to six million of those immigrants from future deportation, the national debate was
quickly framed as a conflict between Republicans and Democrats. Missed in this
partisan war of words was one thing: the initial executive action that Obama
announced involved a further militarization of the border supported by both parties.
"First," the president said, "we'll build on our progress at the border with additional
resources for our law enforcement personnel so that they can stem the flow of illegal
crossings and speed the return of those who do cross over." Without further
elaboration, he then moved on to other matters.
If, however, the United States follows the "common sense" of the border-surge bill,
the result could add more than $40 billion
worth of agents
, advanced technologies,
walls, and other barriers to an already unparalleled border enforcement apparatus.
And a crucial signal would be sent to the private sector that, as the trade magazine
Homeland Security Today
puts it, another "
treasure trove
" of profit is on the way for
a border control market already, according to the latest forecasts, in an
Like the Gaza Strip for the Israelis, the U.S. borderlands, dubbed a "
constitution-free
zone
" by the ACLU, are becoming a vast open-air laboratory for tech companies.
There, almost any form of surveillance and "security" can be developed, tested, and
showcased, as if in a militarized shopping mall, for other nations across the planet to
consider. In this fashion, border security is becoming a global industry and few
corporate complexes can be more pleased by this than the one that has developed in
Elkabetz's Israel.
The Palestine-Mexico Border
Consider the IDF brigadier general's presence in El Paso two years ago an omen.
After all, in February 2014, Customs and Border Protection (CBP), the Department
of Homeland Security (DHS) agency in charge of policing our borders, contracted
with Israel's giant private military manufacturer
Elbit Systems
to build a "virtual wall,"
a technological barrier set back from the actual international divide in the Arizona
desert. That company, whose U.S.-traded stock shot up by 6% during Israel's
massive military operation against Gaza in the summer of 2014, will bring the same
databank of technology used in Israel's borderlands—Gaza and the West Bank—to
Southern Arizona through its subsidiary
Elbit Systems of America
.
-
http://inthesetimes.com/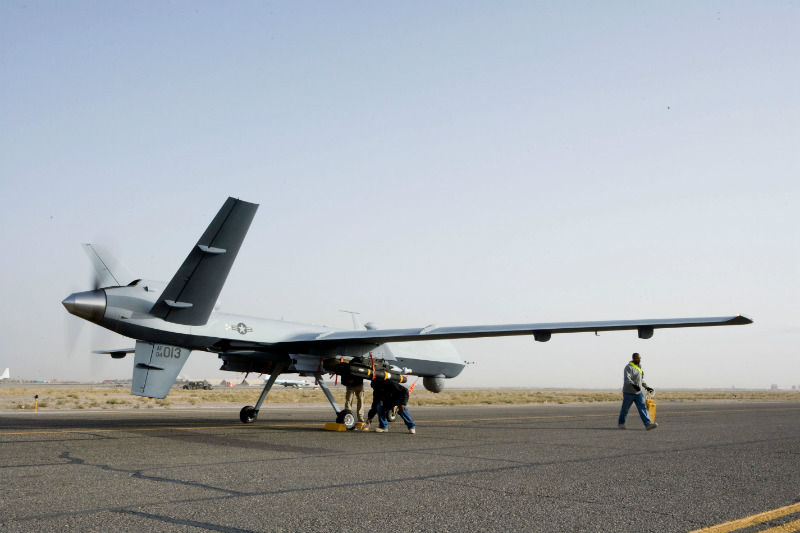 Unmanned drones, used extensively during America's and Israel's
wars in the Middle East, are now being tested on Arizona's border
with Mexico. (U.S. Air Force)
http://mondoweiss.net/2015/05/arizona-activists-militarizing
On May 2, a few miles from the U.S.-Mexico border, just north of Nogales, on Tohono O'odham land, a group of activists unveiled a banner of protest in front of a new surveillance tower, manufactured and operated by the Israeli company Elbit Systems. The group came to bring border justice, indigenous rights and power, and anti-militarization movements together with the Southern Arizona BDS Network to confront the Israeli/US partnership that is militarizing the US/Mexico border with increasingly profound effects on the people of this region. As is the normal case for residents who live and work in this hyper-militarized border zone, on our excursion to the tower, it didn't take long for a U.S. Border Patrol agent, on an all-terrain vehicle, to speed up and rush toward our group, asking us what we were up to—and asking us to leave.
In 2014, the U.S. Dept of Homeland Security awarded Elbit Systems, the Israeli company that is in charge of the surveillance apparatus along the separation wall in the West Bank, a contract that could be worth a billion dollars to further militarize the Arizona-Sonora borderlands. Groups of activists that have come together to oppose this contract are connecting the anti-militarization movement in Southern Arizona to the Palestinian-led movement against Israeli state violence—for, while these protesters oppose Elbit's profiteering from migrant control and the militarized domination of indigenous lands in Southern Arizona, as Naomi Klein writes, "No company is more deeply embedded in Israel's brutal architecture, occupation and segregation than Elbit." In joining forces to oppose the US/Israeli border surveillance and militarization surge in this region, our network of activists hopes to send a message of solidarity across our movements and across the world, to our fellow activists and to the Palestinian people, who inspire our resolve against military occupation and state violence in all its forms.
The new security towers manufactured and operated by Elbit Systems have been erected with high-powered surveillance cameras and radar that have been previously deployed and tested in Palestine, used here to detect migrants crossing the desert. The new wave of militarized control of migration in this region includes building a "virtual wall" along the US/Mexico border, where there is already an unprecedented deployment of armed agents and surveillance technology, all intended to filter migrants into ever-more dangerous zones during their crossing—and this is being done in a region where so many migrants have died crossing that it has been described as a "killing field."
As this video shows, activists from the Southern Arizona BDS Network, along with members of local organizations No More Deaths, Tucson Samaritans, Derechos Humanos, The Tohono O'odham Hemajkem Rights Network (TOHRN), People Helping People Arivaca, Students for Justice in Palestine, and Jewish Voice for Peace, visited three Elbit-built surveillance towers on our recent trip. During our visit, our group took time to collectively honor the Tohono O'odham people, the traditional, indigenous inhabitants of this region, and their current struggle to live freely on this increasingly divided land. We also stood silently in compassionate contemplation of the migrants who risks their lives to cross this region, who too often find themselves trapped by state agents and an incarcerating migration control system.
By working across movements that share the values of opposing state violence and upholding human dignity and freedom, we can see that the same companies that facilitate the occupation of Palestine and the US "War on Terror" have also invested in the domination and control of lands and people in the US/Mexico border region. Companies including Raytheon, Elbit, Lockheed, Boeing, G4S, and more, are invested in the militarization of life, at different levels of intensity, across the globe. In Southern Arizona, Tohono O'odham people who, only one generation ago, freely roamed the yellow-green rolling hills in this region, now cross checkpoints on their way to school and work, and Border Patrol agents pursue anyone in these hills, fully armed. Migrants who cross this land avoid apprehension at all costs, and more than 6,000 have suffered and died in the desert, while many others are apprehended and deported, and usually maltreated. Meanwhile, the Israeli army uses the same technologies that assist US Border Patrol to occupy and dominate Palestinian people.
The solidarity this is creating is highlighted by the work of many people in the Southwest and the US/Mexico border region, who have long held sympathies with the Palestinian cause, and are now protesting the militarization of their home region, sending a message to the Palestinian people and their supporters, of a shared struggle against militarized control of land and life.
....................................................................
- ee more at: http://mondoweiss.net/2015/05/arizona-activists-militarizing#sthash.pdt4jd1r.dpuf