False Witness Stephen Segatore:Boston Marathon U.S.- Israeli Government Terrorism
wolfblitzzer0.blogspot.com/.../boston-marathon-bombs-nurse-stephen.ht...‎
Feb 18, 2014 -

'Boston Marathon Bombs': Nurse Stephen Segatore,Carlos Arredondo Lie About Injuries To Krystle Campbell. 'Boston Marathon Bombs': ...
............................
http://letsrollforums.com/tragic-and-unlikely-misfortune-t29896p4.html?s=475f2d83442d0189ae70ae131695e02b&
A woman dies in the tent, and just disappears off the radar.
The witness in the tent was nurse
Stephen Segatore
.
Quote:
As Segatore, who works at Tufts Medical Center's intensive care unit, gave Campbell CPR he noticed black marks, likely gunpowder, across her face, showing that she was close to the explosion.
"That was just a blur of time," he said. "The severity of the wounds, from person to person, it was nothing like I've ever seen before."
The team took turns performing CPR, but when they set up the cardiac monitor they saw that her heart had stopped pumping blood.
"When she was pronounced dead and put on a stretcher, everyone just kind of looked at each other and said ----. It was loud," Segatore said.
Campbell was the only person who died that day in his care. It haunts him. Now he wants to meet with her family – something he discussed with CNN earlier.
http://www.nydailynews.com/news/nati...icle-1.1320212
http://edition.cnn.com/2013/04/17/he...ampbell-nurse/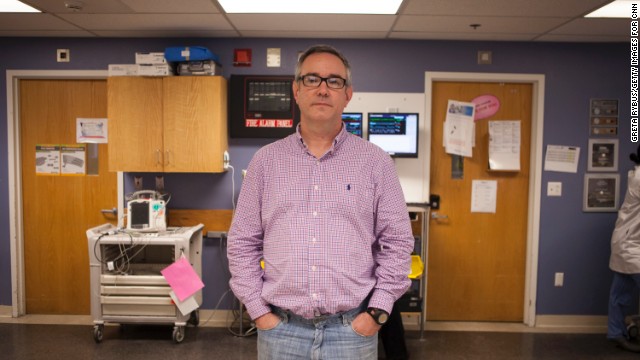 Quote:
"The

[unnamed]

physician called (her death)," Segatore said. "The three of us who were working on her let out an expletive, a scream."
Oh yes... And then, nobody tries to find who she was. Kind of careless [otherwise, of course, there would be two Krystle Campbells on the radar, since Karen Rand, incomprehensibly,was carrying Krystle's ID]
PS I have just noticed this recent blog post on Segatore
Read more:
http://www.nydailynews.com/news/nati...#ixzz2vJ4fojta
http://wolfblitzzer0.blogspot.co.uk/...e-stephen.html
'Boston Marathon Bombs': Nurse Stephen Segatore,Carlos Arredondo Lie About Injuries To Krystle Campbell
February 18 2014
Quote:
Questions:
Why did you change your story between April 16 and April 26?
Why on April 16 did you claim Krystle Campbell's abdomen was "torn open" when photographs from the day show it was not even lacerated?
Why did you later drop this claim in favor of a vague story of a wound "near her left hip'?
Why in one story do you claim Krystle was conscious and in another that she was unresponsive? As an RN how could you be unsure of a factor as important as this?
Why do you claim her leg was turned backwards when it does not appear to be in any condition remotely like this in the one clear photograph we have of her?
As a nurse with 18-yrs experience, are you in the habit of referring to the output from a heart monitor as "squiggly lines"?
exactly. The net is closing.

Is this meant to be Segatore?
http://www.nationalscholastic.org/trackmedic/team

Quote:
Stephen Segatore- has been involved in the running community since 1980. Graduate of Bishop Hendricken HS and 10k NCAA qualifier at U. of Rhode Island. Stephen is a registered nurse specializing in cardiac critical care at Tufts Medical Center in Boston as well as sports medicine. He has been the medical coordinator for The Running School in Bethel, NY for the last six years as well as the Nike Cross Nationals NE/NYS regional.
He is a professional member of the American College of Sports Medicine as well as the American Academy of Critical Care. He is an active member of the sports medicine staff for the National Scholastic Athletics Foundation, the Boston Marathon and is a certified endurance coach by the USATF. He is involved in the care and injury management of many of today's top prep athletes.

Seems like it's a 2005 photo
http://www.runnersweb.com/running/rw...sWebCoach.html

Stephen Segatore - Head Running Coach
25 Years of Coaching and Running Experience USATF Certified Coach BS in Physiology and Exercise Research Registered Nurse with extensive experience in Sports Nutrition, General Health and Orthopedics Stephen bases his training philosophy on the idea that all athletes are individuals what works best for one runner may not be the best training plan for another, regardless of ability or fitness level. Training plans are adjusted based on the runner's response to training, not assumptions. Stephen's personalized training plans are based on sound scientific principles and his twenty-five years as a runner. He believes that injury prevention and recovery runs are as important to any runner as the hard quality portions of their training programs. Stephen's training philosophy emphasizes the idea that speed flows from both physical and mental strength, and encourages runners to commit to a strength and flexibility program designed specifically for their needs.


Nevertheless, Segatore is involved with US Track & Field.
https://www.facebook.com/stephen.segatore
[the gurney rescuer in green cap sported a Track & Field logo]

http://edition.cnn.com/2013/04/16/us...ses/index.html
Video - Segatore with Asaiante
Quote:

Segatore, a nurse for 18 years, started his day Monday with the elite athletes in Medical Tent B toward the start of the race. Once those runners were well on their way, he transferred to Tent A at the finish line. He was talking to a group of doctors and nurses when they heard the first explosion.She became the first patient in their makeshift morgue.
Segatore and others checked her pockets for a wallet, an ID, a cell phone, anything that would help them find her parents' names. There was nothing.



[Joan Doe....to fit in with the narrative, like Rand doesn't have even her own ID, in addition to,bizarrely, having Campbells. Total nonsense]




"The most amazing thing was how everyone worked in tandem. They didn't even have to speak a word between each other," he said. "In 20 years of nursing, this was the most amazing two hours of nursing in my life."



http://www.godlikeproductions.com/forum1/message2180825/pg1
Sandy Hook and Paul Vance's Conflict of Interest
Which Paul Vance? Take your pick.
Lt. J. Paul Vance, Sr. is the spokesman for the Connecticut State Police, and has immense influence over the direction of the case as well as the direction of information conveyed (or withheld) from the public.
His son, J. Paul Vance, Jr., is the Claims Commissioner and decides whether anyone can sue the State.
"It's a bizarre, convoluted and arcane system," said state Sen. Andrew Roraback, R-Goshen, a senior member of the Legislature's Judiciary Committee, the first stop for claims appeals. "Hopefully it weeds out bad claims. The risk is it also weeds out legitimate claims."
In the case of Connecticut, specifically, the "system" is only one man - J. Paul Vance, Jr.
Read more: [
link to www.ctpost.com
]
Why are one or both of the Vances not recusing themselves, and since they are not, why are the public and media failing to demand recusal?